About this Course

For training dates, have a look at our calendar – CLICK HERE
Around 95% of jobs advertised require some level of computer literacy. Whether it be office, delivery, service, or retail based you will be required to work with computers to some degree. People without these essential skills may find themselves missing out in the job market. We provide ECDL Training Cardiff, near the city centre. The ECDL level 1 is an entry level qualification for individuals hoping to develop computer literacy. It covers many of the fundamental aspects of computer use and computer literacy. People who undertake this course benefit from an increased understanding of how computer store information in a hierarchy, how to surf the web and remain safe, issues relating to IT security, using email and the internet to communicate.
Individuals hoping to attain employment in an office or administration position would greatly benefit from this qualification as it will provide you with the fundamental skills required to apply for jobs that require basic computer skills.
The ECDL Level 1 now also contains the very basics of using 3 Microsoft Office products, namely Microsoft Word, Microsoft Excel and Microsoft Powerpoint. These skills will be very useful when going on to the ECDL Level 2 or will be great on their own.
Who Should Attend
This ECDL Training Cardiff course is designed for individuals with little or low levels of competence with computers. It is an ideal introduction to computer use for individuals who are lacking in competence or knowledge relating to computers.
Course Content
This course will cover the following;
Using an Operating System – How to navigate a file structure using an explorer and how to save and open files
Email and Internet – Netiquette: how to send emails, Safe use of the internet
Security for IT Users – Security Considerations, Scams, Phishing and malware
User Fundamentals – Improving productivity on computers: Shortcuts and other good practices.
Spreadsheet Software – Excel is a very robust tool for managing information. It can be used to store large amounts of information like addresses for a mailing list, or be used to work out a tax contribution for employees.
Presentation Software – Powerpoint is becoming more essential for managers who have to present to other teams, managers or organisations. With proper training you can present in a professional and effective way, getting your point across with ease.
Word Processing – Word is the most required skill for anyone in an administration or office position to undertake. It can improve the quality of your documents and the way in which it is presented in general.
Learning Outcomes
By the end of the course learners will be able to;
Operate a computer
Identify the Desktop
Navigate to locations on a computer
Save and open work
Send and receive emails with correct net etiquette
Surf the internet
Undertake a web search using a search engine (E.g. Google or Bing)
Identify a Scam, Phishing, or malware
Understand how to use shortcuts to improve productivity
Understand how to run applications
Course Format
This course is delivered in small taught classes (no more than 5 people) with an experienced professional tutor.
To successfully pass this course you will be required to complete 3 timed tests on the 3 modules. Each one is 45 minutes and has a multiple choice element. A pass rate of 75% is required in each module to attain the ECDL Essentials Certificate.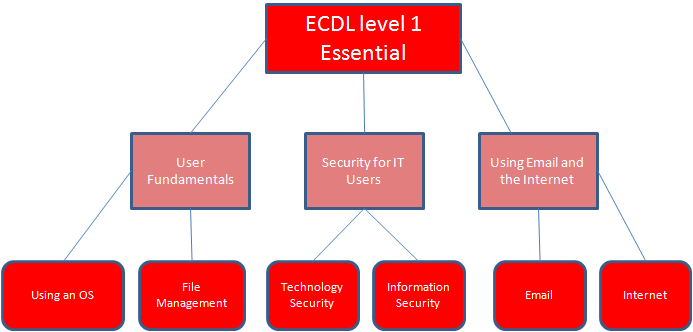 Course Costs
There are no hidden costs for ECDL Training Cardiff. All of our training includes; onsite parking, refreshments, training material, registration and all other related costs. We will even give your first exam for each module for free.
Each additional exam re-sits costs £15 per exam.
ECDL can be delivered at a reduced cost for large bookings or corporate booking. Please contact info@careerchangewales.co.uk for a quotation.