ECDL Level 2 Cardiff – Microsoft Office Training
For training dates, have a look at our calendar – CLICK HERE

We run the ECDL Level 2 Cardiff, near to the city centre. Developing competence with computers is a continuous process. After finalising the fundamental skills required to 'get by' in today's society, developing the skills and proficiencies that will enable us to thrive should be our next priority. Having developed the fundamental understanding of how to use applications and tools on computers; becoming competent with the big three of office applications (Word, Excel and Powerpoint) will truly enable us to become IT users in the 21st century.
The ECDL training course is designed to take people with a basic understanding of computer applications, tools and packages to an intermediate level. The ECDL Level 2 Cardiff (Extra) course will build on the fundamental skills developed in the ECDL Essential course. This course will greatly improve your productivity by introducing you to the correct way and many shortcuts that even many professionals are unaware of. This training course makes a great addition on a CV if you will be intending to work in an office environment, administration position or in any organisation where computer use will be a necessary prerequisite.
Who Should Attend
This ECDL Level 2 Cardiff is designed for individuals who have worked with or on computers but have no formal qualifications to back up this knowledge. It covers applications rather than computer use itself. Delegates of this course will be required to understand fundamentals of computer use like email, internet, IT security and other security considerations. The level 1 ECDL will cover all of these topics. If you are confident in your computer use, you will be able to attend the Extra course without the level 1 qualification. But a needs analysis is advised.
Course Content
This course will cover the following:
Spreadsheet Software – Excel is a very robust tool for managing information. It can be used to store large amounts of information like addresses for a mailing list, or be used to work out a tax contribution for employees. Click Here for the Full Syllabus
Presentation Software – Powerpoint is becoming more essential for managers who have to present to other teams, managers or organisations. With proper training you can present in a professional and effective way, getting your point across with ease. Click Here for the Full Syllabus
Word Processing – Word is the most required skill for anyone in an administration or office position to undertake. It can improve the quality of your documents and the way in which it is presented in general. Click Here for the Full Syllabus
Improving Productivity – This module of the ECDL level 2 assists learners in developing proficiency with these packages. After completing the applications aspect of training you will undertake an efficiency related module that will help you improve your productivity. No syllabus, exam only.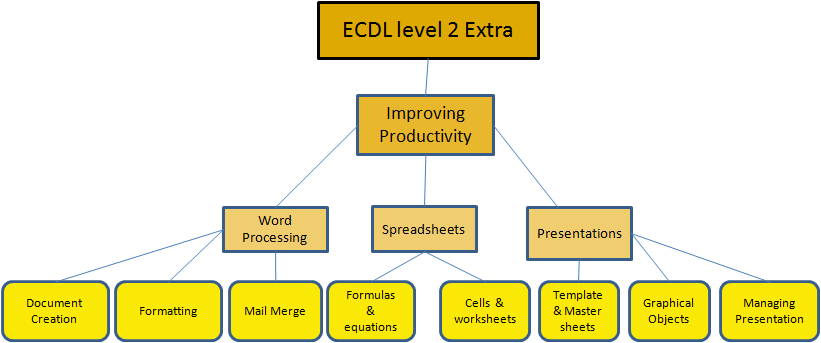 Learning Outcomes
By the end of the course learners will be able to:
Design, prepare and present presentation using Powerpoint.
Use spreadsheet software to manage, maintain, report, and analyse information using Excel
Use Word to create professional quality documents.
Benefit from improved productivity across and between MS Office applications.
Course Format
This ECDL Level 2 Cardiff course consists of training and revision in 4 subjects. Upon completion of each subject you will be required to pass a mock exam and then a live exam in each of the subjects. The exams will be 45-60 minutes and have a pass mark of 75%.
There are no hidden costs for training. All of our training includes; on site parking, refreshments, training material, registration and all other related costs. We will even give your first exam and mock for each module for free, you will be charged for resits.
If you would like any additional information about this course then please contact us on 02921156603 or email Admin@CareerChangeWales.co.uk
Large Bookings
Our ECDL courses can be delivered at corporate rates for large bookings.