We can now offer ILM Level 2 to 7 qualifications. You can see the courses below:
I have recently completed an AAT assessment at CCW. When I arrived, Mike was very welcoming and put me at ease. The atmosphere was very friendly and relaxed. The assessment process went smoothly and Harri was very helpful when making the arrangements. Would definitely recommend.
I would highly recommend Careers Change Wales after completing their web development course through the ReAct scheme. The course was well structured and delivered exactly what was outlined beforehand, and more. The course tutor was knowledgeable and happy to discuss aspects key to me in a greater detail. Everyone at CCW was welcoming and professional, whilst great communication was maintained throughout. Thank you again!
I took the ILM v5 courses in Individual Development and Project Management. The courses and tutors were absolutely fantastic, really engaging, friendly, informative and enjoyable. I have learnt real useful skills here to help me with my journey. A big thanks to Mike and team for providing and teaching both great courses, along with their advice and guidance to get me through to gain the ILM v5 Award.👍👍
In August 2019 me and Anže attended an erasmus+ project which was held in Wales where we stayed for about a month. During this project we met many people with good intentions and a vast majority of knowledge that they passed on to us. The context of the project taught us the basics of organizing, a lot of new advanced English and work safety. We also learned a lot about people skills and about us in general. We stayed at Mike and Jane's house and they were both very welcoming. While we were there we loved to talk with them but besides that we also had the privilege to taste their tasty cousine and even learn some basic karate. The experience was incredible and i would do it again.
I have just completed my ILM level 3. Very knowledgeable and experienced tutors. The examples given was tailored to the industry I and other candidates worked in which made it more relatable and easy to grasps. Communication was very good and quick response when reviewing assignments. I recommend CCW for their courses and I look forward to learning from them again in the near future.
From dealing with the staff at CCW for a few months I can say the experience was really beneficial. The content they deliver is very detailed, they have a lot of experience which they convey. They're always m happy to help in whatever way they can. The training set up is great as it allows for a more personal experience. It was a pleasure learning from them and I would love to do a course again with them in the future.
I was made redundant after 42 years working for a retail company as a Customer Service Manager. I had no formal qualifications and needed to up skill in computer technology. I met Mike the company director, he put me at ease with his compassion and understanding. He tailored courses to my needs. I completed the ILM management course . The tutor was very professional and knowledgeable. I enjoyed the course immensely in a relaxed atmosphere. I then completed ECDL 1 & 2 with Harri . It was with Harri's time and patience that I persevered with the course. They adapted the course to my learning style and I was able to work at my pace. Time was not an issue and their flexible approach was second to none . I would like to thank CCW for supporting me in my endeavour to gain employment . These new skills certainly helped me in my new role. I would recommend CCW for anyone needing to up skill and gain further education. Verly Tunley 10/05/20
Career Change Wales provides superb training programmes. The trainers are excellent with a very high level of expertise delivering the training with a skilled and patient attitude. This enables the trainee to fully understand the topics in the method of learning. The organisation of the training programme is excellent. The organisers are very friendly with a professional , dedicated and highly supportive approach in a pleasant personalised environment.The course materials are meticulously prepared and intelligible. I found the ECDL computer, Management training and Social Media topics are invaluable. CCW recognise the importance of the individual's career path and how to adapt and learn in an ever changing world of work.
The ILM endorsed course in Leadership & Management delivered by Career Change Wales was a perfect choice for me. The course was delivered in a professional but relaxed way, with plenty of interaction between the course attendees and the tutors. Any and all questions were answered in a clear and concise manner, backed up by practical examples and personal experiences. The ILM course was packed full of information in the form of handouts, videos, and 'in class' internet presentations. As a recently appointed manager of a medium sized multi-national workforce, the training, information and practical examples delivered by CCW and her tutors will be invaluable in my ongoing role. The Leadership & Management course has certainly enhanced my knowledge and understanding of business and personnel management, and has provided some alternative strategies that I will now employ in the future. I would recommend this course to anyone who is thinking of improving their knowledge & skills in their current role, or who is considering career development.
ILM Training Cardiff – Accredited and Unaccredited Leadership & Management Training (Watch ILM video)
We provide ILM training Cardiff, near the city centre at 5-7 Museum Place, Cardiff, CF10 3BD. The Institution of Leadership and Management (i-l-m) is a world-renowned institution and our vocational training programme have been designed to give middle managers the foundation for formal management qualifications and skills. This ILM training Cardiff course is all about securing the future: that of yourself and your organisation. You may well feel that you are at saturation point with the amount of work that you can physically do at any one time.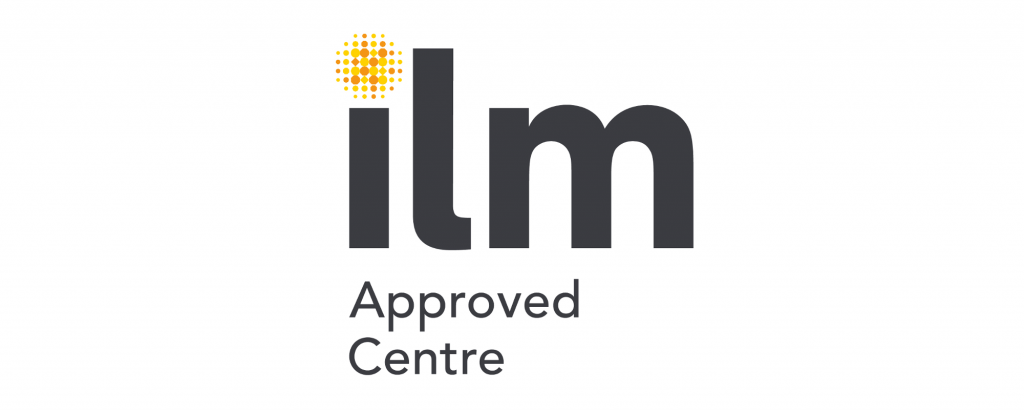 Check out our USEFUL Good Guide to ILM Assignments HERE!
We are able to offer group bookings at a discounted rate for organisations. These courses can delivered bespoke with your organisational needs included in the courses. We can also deliver this course as an 'Off-the-Shelf' product if you need the training delivered ASAP.
Our ILM courses divide into Endorsed/Developmental and Vocational Qualifications. These vary in content and topics.
We are now offering an innovative Zoom + Face to Face training practice where you can sit courses either through Zoom or Face to Face in Cardiff. If you have course enquiries, tell us which type of training you would prefer!
'Fast-Track' scheduled qualifications for ReAct3 candidate.
Most Popular ILM Courses
This ILM training Cardiff Level 2 vocational qualification covers a broad selection of subjects related to management, leadership and recruitment. This vocational course covers : Understanding Leadership, Leading Your Work Team, Meeting Customer Needs, Methods of Communicating in the Workplace, Setting Team Objectives in the Workplace, Understanding Training and Coaching and finally Solving Problems and Making Decisions.
The ILM Level 2 Award for young leaders is a vocational qualification with a broad spectrum of modules available. This course is aimed at young people aged 14-25 to teach them the skills necessary to become the next leader of their generation. This course covers : Developing Self-leadership and Resilience for Young People, Developing Leadership Skills for Young People, Developing mentoring Skills for Young People, Developing Skills to Work as a Volunteer, Developing Awareness of Equality and Diversity.
The ILM Level 3 vocational qualification covers a broad selection of subjects related to management, leadership and recruitment. It is an excellent course for anyone in a management position who doesn't have any qualifications or for anyone who is looking at getting into a supervisory or management position.
This vocational course covers : Understanding Leadership, Understanding Recruitment and Selection of New Staff, Managing Workplace projects, Understanding Health and Safety in the Workplace and finally Understanding Marketing for Managers.
The ILM training Cardiff Level 4 vocational qualification covers a broad selection of subjects related to Management, Leadership and Recruitment. This ILM training Cardiff covers : Developing People in the Workplace, Managing a Healthy and Safe Environment, Managing Marketing Activities, Motivating People in the Workplace.
This ILM training Cardiff Level 5 vocational qualification covers a broad selection of subjects related to management, leadership and recruitment. This vocational course covers : Managing Improvements, Leading Innovation and Change, Managing Customer Relations, Managing Projects in the Organisation.
The ILM training Cardiff Level 7 vocational qualification covers the highest level of leadership. It covers strategic leadership within an organisation as well as development of individuals and an organisation as a whole.
This program has been designed with the expressed intention of helping supervisor, new managers or existing managers to develop the formal qualification that enable them to become proficient. Some of the modules covered will give a better understanding of management and leadership in the work environment. The success of this program has helped many to attain new employment, progress within a company via promotion and in some cases changing their careers. This management programme is our most popular and successful in terms of 'up-skilling' and practical application for job search and progressing to a more senior management position.
This program has modules that have been mapped to a Level 5 Award or higher.
Construction Related ILM Qualifications
(Duration: 3, 6, or 12 months)
Cost: £850 + VAT (Level 3 Award); £1,990 + VAT (Level 3 Certificate)
This qualification has been specifically created for managers within the construction and built environment sectors. The course will cover the following modules depending on which level you attend: Leadership and Management Practice for the Construction and Built Environment Sector; Delivery of Site Operations and Logistics; Understanding Commercial Awareness; Handling Difficult Situations; Achieving Performance Through People.
Our tutors delivering ILM training Cardiff are Chartered Engineers, professionals who have worked in the Construction and Built Environment sectors.
======================================================================
Endorsed and Developmental Programmes
The Train the trainer qualification is an introduction to teaching and learning in the Adult Education Sector.
This ILM training Cardiff course covers the fundamental aspects of training and teaching. This course will enable you to be able to deliver training with a slew of interesting Ice breakers, energisers and warm ups. This course will also cover some of the ways to improve learners retention of information, making your teaching more effective.
========================================================================
Non-Accredited Management Training
A managers personal and professional development will be key to whether they stay in the same position, move higher or move lower. The more professional development you acquire the better you will look to the company that employs you and the more indispensable you will become. In the link above you can find 5 modules that can be done as a class or as single modules. The modules can be done with or without accreditation as well.
========================================================================
Bid Writing Course
The aim of this bid writing course is to provide learners with an understanding of Bid Writing, and how to win tender. It will also allow you to understand why you failed on previous bids, improve on unsuccessful tenders and improve for new tenders.
===============================================================================
Our intermediate/advance course will give you a better understanding of writing and winning bid. This course will allow you to go further and give you a global understanding on bidding for National, European and International contracts or opportunities.
===============================================================================
PRINCE2 (Projects in Controlled Environments) is the world's most practiced project management methodology and a de facto standard developed and used extensively by project managers around the world:
QUALIFICATIONS RECOGNISED AROUND THE WORLD
COMMON CONSISTENT APPROACH TO PROJECT MANAGEMENT
IMPROVED ALIGNMENT AND COMMUNICATIONS
INFLUENCE THE ORGANISATIONAL CULTURE
These PRINCE2 courses are delivered by Insights, an accredited ATO
===============================================================================
ILM Vocational Qualifications (QCF)
Online and Zoom-pro based training
We are offering online and Zoom based training as well as our usual classroom courses. Should there be further lockdown restrictions more courses are likely to be done either through Zoom or via online. However as of this moment, we are providing all of our training as normal in classrooms. We are also ensuring that classroom training courses are done in very small numbers of no more than 4. This is so we can not only provide the highest quality of training, but also we ensure everyone's safety during these times.
Should you be interested in Zoom training you will need to have a PC or laptop and a free Zoom account. If you do not have a Zoom account, we can help you to setup one.