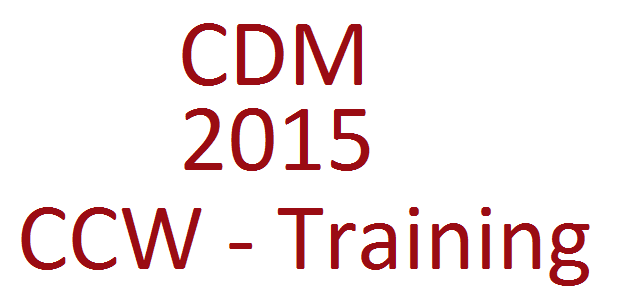 Overview
This CDM 2015 Awareness training cover the CDM Regulations 2015 which put a series of duties on contractors' designers and clients involved in construction. This module is designed to provide professionals or interested parties involved in managing or procuring Construction with the broad knowledge required to work within the legislation and relate to other professionals with a greater level of understanding in the implementation.
Training Modules
Legal Framework
The Health and Safety at Work etc Act 1974
The Management of Health and Safety at Work Regulations 1999
The Workplace Regulations 1992
The Construction Design and Management Regulations 2015
Construction Procurement
Types of Construction
Types of Contract
Project Teams and Roles
Procurement Routes
Types of Contractors
Contractual Relationships with Contractors
The Construction Design and Management Regulations 2015
What is CDM2015?
Aims and objectives of CDM?
The duty holders
Their duties
Risk reduction
The benefits
Practical Examples
Implementing CDM2015
Team Selection
Type of team
Competence
Experience
Training
Health and Safety record
Project Management Implication
Management arrangements
Responsibilities
Co-ordinator
Meetings
Targets
Site Rules
Induction
Tool Box Talks
Method Statements
Auditing and Monitoring
Post Contract Assessment
Delivery Methodology:
Presentation by experience and qualified professional from the construction sector
Case studies
Benefits Perceived by attendees:
This course will increase your CDM 2015 Awareness as well as your understanding of it's regulations.
Intended for:
Engineers, Planners, Consultants, Contractors and Consultees, who wish to maintain their existing skills or who are early in their career and who wish to become more proficient in CDM 2015 awareness.
Course Duration:
1 Day – CPD
General:
Refreshments and buffet lunch will be provided including course notes.
(For special dietary requirements please contact our administrator at: Info@careerchangewales.co.uk)
Online and Zoom-pro based training
We are offering online and Zoom based training as well as our usual classroom courses. Should there be further lockdown restrictions more courses are likely to be done either through Zoom or via online. However as of this moment, we are providing all of our training as normal in classrooms. We are also ensuring that classroom training courses are done in very small numbers of no more than 4. This is so we can not only provide the highest quality of training, but also we ensure everyone's safety during these times.
Should you be interested in Zoom training you will need to have a PC or laptop and a free Zoom account. If you do not have a Zoom account, we can help you to setup one.