Personal Professional Development Managers Courses.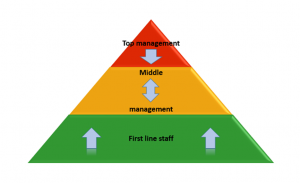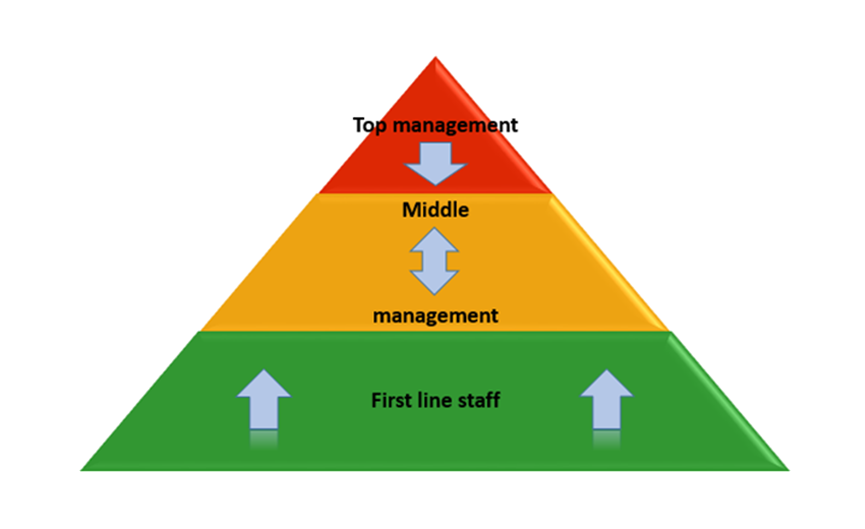 In all businesses, middle management, represents the connection between managers and the first line staff.
When functioning correctly it will ensure effective communication, effective team working and effective decision-making. These tools are essential and key to any business successes.
The managers should understand and be sensitive to both the organisation and the individuals' needs. Hence managers will need to develop strategic thinking and an understanding of the bigger picture. Whilst working with the team members, they should develop people skills, understand leadership styles, be able to solve problems and make decisions including manage/mitigate risk for the business.
Some existing team members in management aspiring for promotion would benefit from improving their skills in our specially designed training programmes. These training workshop will suit Small and Medium Enterprises' team leaders, junior managers and managers seeking promotion or upskilling.
Our "Personal Professional Development Managers Courses are as follows:
(1) Work Place Communication – an effective skill to lead teams and manage projects
Good management and leadership skills; Culminating a productive team-working environment are a consequence of a successful business. The learning outcome of this training course is, the candidate will gain work place communication, personal and business development skills.
(2) Becoming an Effective Leader in the Work Place
This training will increase the understanding of different leadership styles, how it will help candidate to reflect what type of leader to be and how to achieve these skills. Candidates will develop knowledge about leadership qualities and understand the difference between a leader and a manager. At the end of the training, candidate will gain new skills and knowledge, whilst company (SMEs) will gain an effective leader to effectively manage and grow their business.
(3) Understanding Customers' Psychology and Requirements
In our present business world of continuous changes and led by new technologies, companies need to understand and adapt their services and marketing methods to their clienteles' expectation and individual market requirements. This training aims to increase candidates' understanding about marketing, sales, customer care and the psychology behind it all.
(4) Understanding Sustainability and Environmental Issues Relating to the Work Place
Companies' sustainability and its growth depends on the decisions we choose and make every day. We are all becoming aware of environmental issues, global warning and the changes in legislation in the Work Place that come with it. Hence, managers need to keep ahead of these new challenges and requirements from enforcement agencies. This training will help leaders and managers to understand the importance of environmental protection when designing, delivering and managing projects. Understanding environmental issues is a "WIN-WIN" situation, for both the businesses and the conservation of our planet.
(5) Risk Management and Health & Safety Awareness in the Work Place
Leaders and Managers should have a legal obligation and a good understanding of 'Health and Safety' legislation, Risk Assessment and Management regardless of the size of the company. They should know the risks in their work place, the duties, responsibilities and understand how to mitigate them. This training will increase the candidates' understanding about risk assessments and duty of care, in accordance with existing legislation.
(6) Having Difficult Conversation – 'How to deal with it'
We have all come across a person who is difficult and have had to try and overcome the challenge of dealing with difficult people. The most important skill to overcoming a challenging person is being able to have a difficult conversation. This course will help you understand the in-depth logic behind having a successful difficult conversation. Click the link to see our having difficult conversations course. – Having Difficult Conversation
Our selling point:
CCW is one of the few training providers that have chosen to deliver its training in small classes to ensure 'value for money' to all our clients.
Our training can be bespoke to our clients and the training dates are flexible. We deliver these training modules on a monthly basis.

Our training courses are mostly delivered at our head office where we have 3 fully equipped training rooms at (5 – 7 Museum Place, Cardiff, CF10 3BD). We also offer online support. Should our candidates requires coaching and mentoring, we can arrange a 'one-to-one' session.
All candidates will receive an attendance certificate for their Continuous Professional Development (CPD).
Should you require further information, please contact us on:
E-mail : info@careerchangewales.co.uk
Telephone: 0292 115 6603 Free phone: 0800 848 8117
Office Address: CCW-Training Academy, 5 – 7 Museum Place, CF10 3BD, Cardiff.
Website: www.CareerChangeWales.co.uk
We are now offering an innovative Zoom + Face to Face training practice where you can sit courses either through Zoom or Face to Face in Cardiff. If you have course enquiries, tell us which type of training you would prefer!
Online and Zoom-pro based training
We are offering online and Zoom based training as well as our usual classroom courses. Should there be further lockdown restrictions more courses are likely to be done either through Zoom or via online. However as of this moment, we are providing all of our training as normal in classrooms. We are also ensuring that classroom training courses are done in very small numbers of no more than 4. This is so we can not only provide the highest quality of training, but also we ensure everyone's safety during these times.
Should you be interested in Zoom training you will need to have a PC or laptop and a free Zoom account. If you do not have a Zoom account, we can help you to setup one.