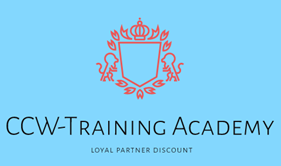 LOYAL PARTNER DISCOUNT SCHEME – Training Discount Scheme
This training discount initiative is simply based on the statement below that applies to all:
"To gain access to X , in order to purchase Y and keep purchasing Y to get more X"
Training Discount conditions:
All our loyal partners will be able to benefit from a 30% discount subject to the following:
Free to join (just complete our LPDS form)
Free gap analysis of the company (training and development of staff)
Use CCW-Training Academy as your preferred Training Provider,
Book a minimum of 4 places per booking,
That we shall only run the training course subject to a minimum of 6 candidates,
Monthly Payment Plan:
We offer a monthly payment plan, (subject to application status). For more detail please contact us direct. You can do so on the details below.
Partnership Charter:
That CCW-Training Academy and their partners' will be able to advertise our partnership on social media, website and other marketing literature. We will honour to be transparent to each other in matters of training.
For more information please contact us on: 02921 156603 or E-mail: harri@CareerChangeWales.co.uk
You can fill out our application form here – CLICK HERE
You can find our courses CLICK HERE