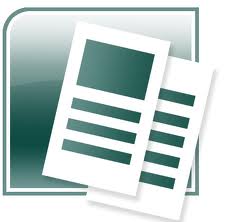 The ability to create professional publications such as brochures, flyers, banners and other promotional material can generate endless revenue for an organisation if they are done correctly and professionally. They can improve your company image while generating income at the same time. If you possess the ability to create publications with these kinds of programmes, your organisation can create professional publications all year round without the cost of subbing out work and in very little time. It can help keep you in touch with your community or customers and come across as professional at the same time. We provide a high quality Microsoft Publisher training course that is run in very small classes in the Cardiff city centre.
Microsoft Publisher is an entry-level desktop publishing application from Microsoft, differing from Microsoft Word in that the emphasis is placed on page layout and design rather than text composition and proofing. Our training will take you through the different layouts and designs that you can create or use with Microsoft Publisher. It will develop design skills so you can competently create publications for any occasion.
The robust and versatile nature of Microsoft Publisher means it is one of the best programmes for creating publications such as posters, flyers, banners and booklets. If creating publications is a requirement in your daily workload, or even weekly requirement; this training can help by formalise and cementing what you already know in the framework of training delivered by a highly competent tutor. The training can be tailored to suit your needs. If you have a requirement to be able to create we can discuss potential training opportunities. Our standards are beginners and intermediate, which will take you all the way through everything you need to know on how to use Microsoft Publisher.
For training dates, have a look at our calendar – CLICK HERE
If you cannot find the course you're looking for on the calendar please contact us either by phoning 029 21 156 603 or emailing Info@CareerChangeWales.co.uk
Who Should Attend
Any individual with an interest or requirement to create marketing material, produce flyers, poster or other promotional material may wish to undertake this Microsoft Publisher Training course. There are no formal requirements to complete this course.
Course Content
This course will cover the following:
Creating a Publication by Type
Using the Font Tools
Modifying a Style
Creating a Master Page
Completing a Mail Merge
Learning Outcomes
By the end of the course the learner will be able to:
Create professional publications
Use different tools, style, fonts to create vibrant publications
Use mail merge properly and effectively
Change the default options of Publisher
Course Format
The Microsoft Publisher Training course will vary in length depending on the level of study you wish to undertake. The introductory course is a one day course but the intermediate course required an additional day of training.
There are no hidden costs for training. All of our training includes; onsite parking, refreshments, training material, registration and all other related costs. We will even give your first exam for each module for free.
If you would like any additional information about this Microsoft Publisher Training course then please contact us on 02921156603 or email Admin@CareerChangeWales.co.uk