Risk Assessment Training (Practical skills – delivered by specialist)
Learning Outcome:
This Risk Assessment training has been designed as an introduction to help staff to understand and learn about how to comply with the law and to carry out a Risk Assessment in the UK. The course covers outlines legal responsibilities, including how to undertake risk assessment.
This Risk Assessment Training will also highlight the importance of using best practices to follow when carryout Risk Assessment.
Main causes of accidents and ill health, and their implications for people in the workplace legal requirements for risk assessment
Principles of risk assessment including:
Hazards, risks and control measures
The five steps of risk assessment
The hierarchy of control
Risk assessment review and record keeping
Risk Assessment Training Contents:
Definition of Hazard and Risk
Hierarchy of control measures to reduce risk
Risk rating
Requirements for a competent assessor
Derivation and use of checklists
Method of statements and risk analysis of activities – normal work, maintenance emergency plans
Worked examples and case study
Case study – delegates will undertake a risk assessment & preparation of a simple "Method of Statement"
Risk Assessment Training General Details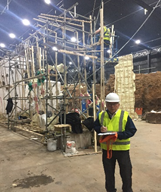 This Risk Assessment training course will be held at our head office which is 5-7 Museum Place, Cardiff, CF10 3BD. Should you have enough candidates, the course can be held at your offices. The course is held during the weekdays from 09:30AM to 16:30PM.
Everything will be provided for you during the day, from lunch and refreshments to training material and note paper.
For more information you can contact 029 21 156 603 or email Info@CareerChangeWales.co.uk
Online and Zoom-pro based training
We are offering online and Zoom based training as well as our usual classroom courses. Should there be further lockdown restrictions more courses are likely to be done either through Zoom or via online. However as of this moment, we are providing all of our training as normal in classrooms. We are also ensuring that classroom training courses are done in very small numbers of no more than 4. This is so we can not only provide the highest quality of training, but also we ensure everyone's safety during these times.
Should you be interested in Zoom training you will need to have a PC or laptop and a free Zoom account. If you do not have a Zoom account, we can help you to setup one.