ReAct Funded Training: Frequently Asked Questions (FAQ)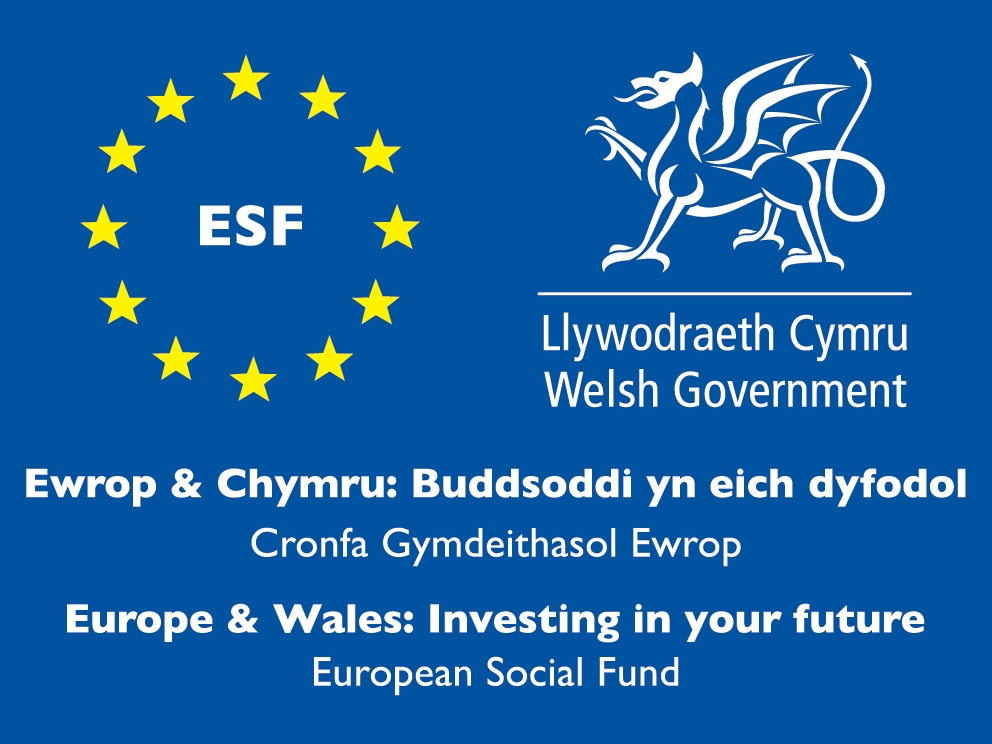 Many of you may be aware of ReAct funding (Welsh Government funding), to cover the costs of your retraining to help you to get back into employment. We are frequently contacted by individuals trying to find out how and where they can get hold of ReAct funding and what it can be used to pay for? The ReAct funding project is financed by the Welsh Government with support from the European Social Fund.
We have put together this FAQ to help answer some of the questions we are often asked.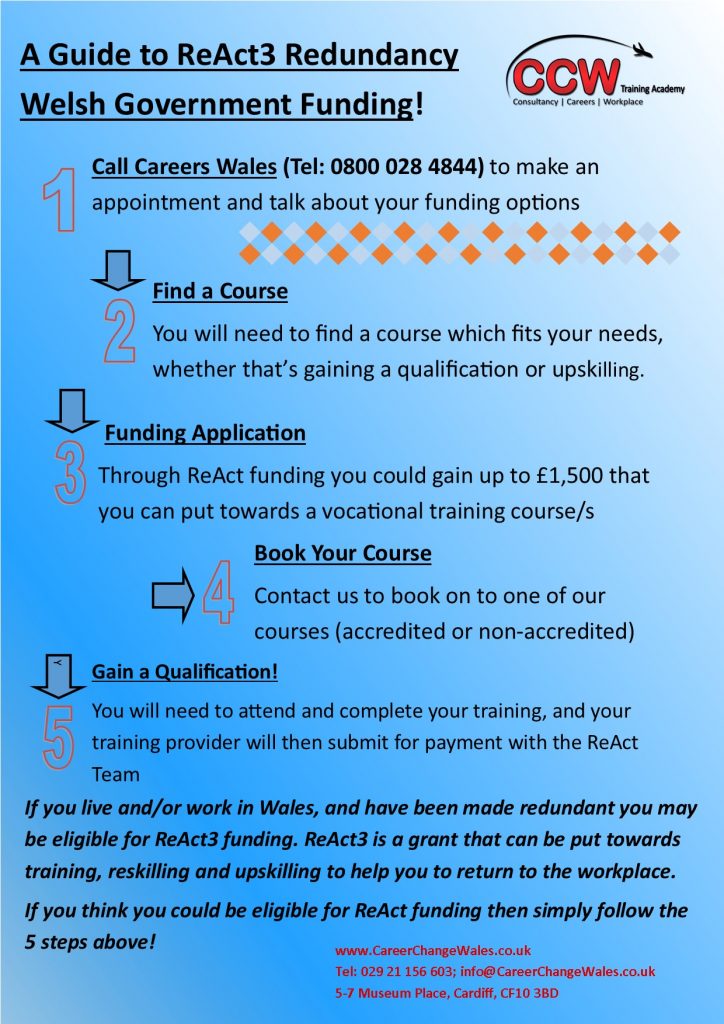 1. Is Career Change Wales – Training Academy ReAct?
No, we are a training provider, we work closely with Careers Wales and the ReAct team to help individuals who have been made redundant (within 3 months of the date of redundancy).
If you would like to contact ReAct directly you can do so through this number -> 03000 255888
If you want to contact Careers Wales regarding your ReAct application you can phone them on this number -> 0800 028 4844
If you would like any assistance or help in choosing a training course you can contact us on -> 029 21 156 603
2. How much Funding am I eligible for under ReAct Grant?
Under ReAct grant you could be entitled up to £1500 towards your vocational training (Subject to approval by ReAct). You could also apply for financial assistance to pay for your travels and child care.
3. Am I Entitled to ReAct Funding?
It will depend on your circumstances. If you; live in Wales and have been recently made redundant (in the past 3 months) and you have a letter of redundancy from your previous employer you will be eligible. Unfortunately, if you are self-employed you won't be eligible for ReAct Funding.
4. What can I use the ReAct funded training for?
ReAct funded training can be used to cover the cost of your vocational training that is related to an individuals personal, professional and career development plan. This must be realistic and reasonable development related to your past employment or in certain circumstances you can apply training that will help you to change career.
5. What Training Course Should I Take?
Which course is right for you will depend entirely on your circumstances. We offer a free consultation with our clients to discuss options, pros and cons and benefits for your re-training or up-skilling. Our recommendations are realistic and will be focussed on helping you to attaining new employment.
6. Can you advise me on my Career Change?
Yes, during your consultation we will discuss your options and the courses available to you that can help you to attain employment. We have members of staff with many years of practical experience in employment law, HR and as hiring manager within many private, public and third sector organisations. We draw on their knowledge to advise you on the best possible outcome.
7. How long will my training course take?
Your training will take anywhere from 1 day to 2 weeks to complete depending on what course you choose. All of our courses are fast track and can be completed in as short a time as possible. This allows you to begin applying for jobs with your new qualification(s) ASAP.
8. How much will my Training Course Cost?
Your training will not cost you anything. We work closely with Careers Wales, ReAct and as a result, the courses that we offer are subsidised by the Welsh Government and can be combined to utilise as much or as little of your ReAct funding as you choose. If you wish to take additional courses over the value of £1500 you will need to fund the difference yourself.
9. How long will it take to start my training course?
This will depend on several factors. It will normally take between 1-2 weeks to complete the application process (i.e. filling out all the appropriate paper work with Careers Wales). Once your application has been approved by the ReAct Team in Swansea, you can begin your training.
10. Can I have a Free Consultation?
Yes, Call us on 02921 156603 to arrange a free career consultation. Alternately, you can call in any Careers Wales offices and they will be able to help you.
11. Why Should I Train with You?
Our courses are specifically designed to help people to get back into employment as soon as possible. We have a 90% success rate for returning to employment within 3-6 months after completing a course with us.
We offer a free coaching and mentoring service for all our candidates,
All of our courses are taught in small classes (i.e. no more than 6 individuals in a class, on average 4 people)
All of our classes are tutor lead and all of our tutors have a combination of industry experiences in their respective fields. You can see our Tutors Here
We offer quality training, 98% of our clients would recommend us to a friend or member of family. Click Here to a look at our Google Testimonials
We are accredited to ISO 9001:2008 and have attained Investors in People (IIP) status.
We have a free private car park for the use of our candidates and access to our on-line portal to assist you in your learning experience with us.
If you would like any further information about ReAct or any of the courses that we deliver contact us on:
Tel. 02921156603
Alternatively, you can contact us on: info@careerchangewales.co.uk