Here you can find CCW-Training Academy's good practice for getting ready to return to work from lockdown.
"Considering return to work in order to protect those who may be affected by their activities"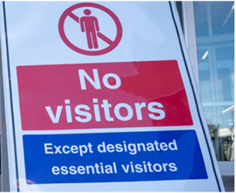 Here you can find our considerations and check list for returning to work after the coronavirus lockdown has dissipated. Here you can find ideas on what you can do in your workplace to ensure everyone in your workplace works under safe conditions.
10 considerations/check list to Returning to Work:
How social distancing can be implemented in the work place and activities?
What staff will need to do should they begin to feel unwell, both in the workplace and at home?
Advice on staff travel and working at locations not under their control?
Working with customers, clients and others?
Statutory, emergency and routine maintenance and inspection?
Any PPE requirements?
Mental health issues including anxiety due to returning to work?
Personal issues such as caring for a loved one, childcare, financial concerns, etc.?
Training/briefing in new requirements for safe working for returning staff?
Legal considerations such as updating to H&S Policy, safe working procedures and carrying out risk assessments?
Check out our Twitter and Facebook
You can find out courses HERE