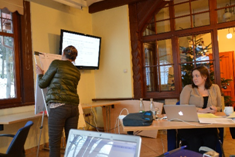 CCW has recently attended the third E2MP project meeting hosted by EFM in Poland.
The meeting agenda focused on discussions on the implementation of the first intellectual output – The European Mobility Project Management 'Online' Training and the second intellectual output – Specific training session over young people with fewer opportunities, and on the preparation of the third output – Evaluation and certification process in European Mobility project management for the Youth Workers.  The consortium are using different methodologies in order to provide the best results and help in the most efficient way the new youth managers working on Erasmus +, and especially the youth workers targeting to work with young people with fewer opportunities.   
The meeting gave the partnership the opportunity to evaluate the preparation and implementation of the outputs and to propose effective and innovative methods. The training objectives are to increase the youth workers understanding in the Erasmus+ Programme and the EU tools to be used. It will also train the 'online' user to manage the project, and risks when working with youth and young people with fewer opportunities.
The project aims are: to increase the users' skills and to give young people a better chance to participate in a mobility project and help to prepare, mentor and support youth managers.
In summary, the meeting was very productive and it gave the partners a better understanding of all the processes involved thus simplifying the training. The next Interlectual Output meeting will be held in May 2016 in Sicily.