The New ReAct Plus Funding in Wales
ReAct Plus is a new grant programme that builds on the success of previous programmes and is part of the Welsh Government's Young Person's Guarantee
What is ReAct Plus?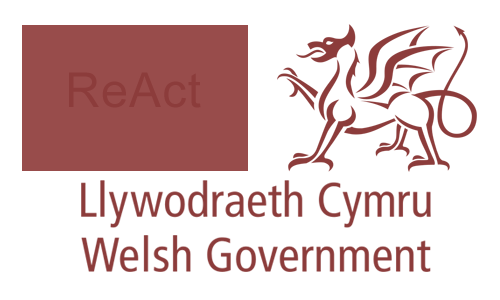 ReAct+ offers tailored solutions which may include financial support, skills training and Personal Development Support to help remove barriers to employment, such as support with mental health, confidence building, language skills and more.
ReAct Plus is a new grant programme that builds on the success of previous programmes and is part of the Welsh Government's Young Person's Guarantee.
Eligibility
To be eligible for ReAct Plus support you must be aged 18+ and be a resident in Wales with a right to live and work in the UK and either:
Under formal notice of redundancy or
Been made redundant or unemployed within the last 12 months
If you are aged 18-24 and not in education, employment or training you will also be eligible for ReAct+ support.
How does it work?
If you're interested in how ReAct Plus can help you please contact Working Wales to book an appointment.
A Working Wales adviser will provide expert careers information, advice and guidance and will explore all of the options available to you.
If ReAct Plus is the right fit, an adviser will support you with your application and help you create an action plan. Once your eligibility has been verified and your plan is approved, your adviser will complete your final submission.
What is available to you through ReAct Plus?
The support you get is tailored specifically to you and your situation. All support is designed around getting you into employment in the shortest time possible.
ReAct+ can include:
Up to £1,500 to help you get the relevant skills you need – Vocational Training Grant
Up to £4,550 to help cover childcare/caring costs when you're training
Up to £500 of personal development support to help remove barriers to employment – Personal Development Support
Mentoring and work experience
Up to £300 of extra support towards additional costs when you're training, including travel and accommodation
How ReAct Plus could support your next employer
Have a prospective employer in mind? Employers can access ReAct+ support to help with the cost of wages and job-related training for an eligible new recruit.
You must not have worked for 6 weeks or more since your redundancy or unemployment before they apply. You also must not start working for your new employer until the support is approved.
How do I apply?
If you wish to apply for ReAct+ support, contact Working Wales or call us for free on 0800 028 4844.
Check out some of our excellent courses -> HERE: Many of which can be funded under the ReAct funding.