19th November 2015 – At the Brains Brewery Headquarters, Penarth Road, Cardiff
Jambo! (Hello in Swahili)
Do you want to make a difference and do something to give cancer unfortunate people hope to life? Do you know somebody who suffered from cancer and you want to help cancer research centres to improve the techniques and treatment to fight against cancer?
This is your challenge: Join Tenovus Cancer Care team and conquer Kilimanjaro in 2016! Training and support will be provided by Tenovus' professionals who have experience in helping.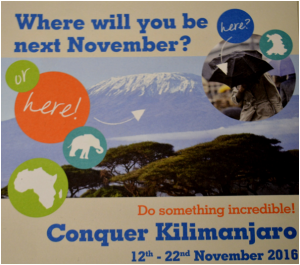 Once you have registered you will receive a guide on how to prepare for the trek.
If you are interested in taking part in this challenge or if you want to support with the fund raising, please call 029 2076 8865, or write to events@tenovuscancercare.org.uk
If you want to know more about the Kilimanjaro Trip, registration fees and fund raising details, you can find information on
http://www.tenovuscancercare.org.uk/kilitrek2016
There are only 45 places available!
If you really want to register, but you don't have the money yet, you can book your place now, and pay later.